Efforts to enhance the operations of Zimbabwe's national carrier received a major boost after Air Zimbabwe received the Boeing 777-200ER aircraft from Malaysia on Monday.
The acquisition is to augment the nation's depleted fleet of aircraft with the hope of reviving its prospects.
The $16.5 million aircraft from Malaysia has been named after former President Robert Mugabe whose government begun negotiations for some aircraft before his exit from power and subsequent death.
The Minister of Transport, Joel Matiza and other top government officials assembled at the Robert Gabriel Mugabe International Airport to welcome the aircraft.
Data from online flight tracking website FlightRadar shows that the aircraft became a 15-year-old plane, on January 16.
It went on a test flight from Sultan Abdul Aziz Shah Airport in Subang before returning to the same airport after a one-hour, 49-minute flight over the Strait of Malacca during which it climbed to 40,000 feet.
The test flight was in preparation for its delivery to Zimbabwe.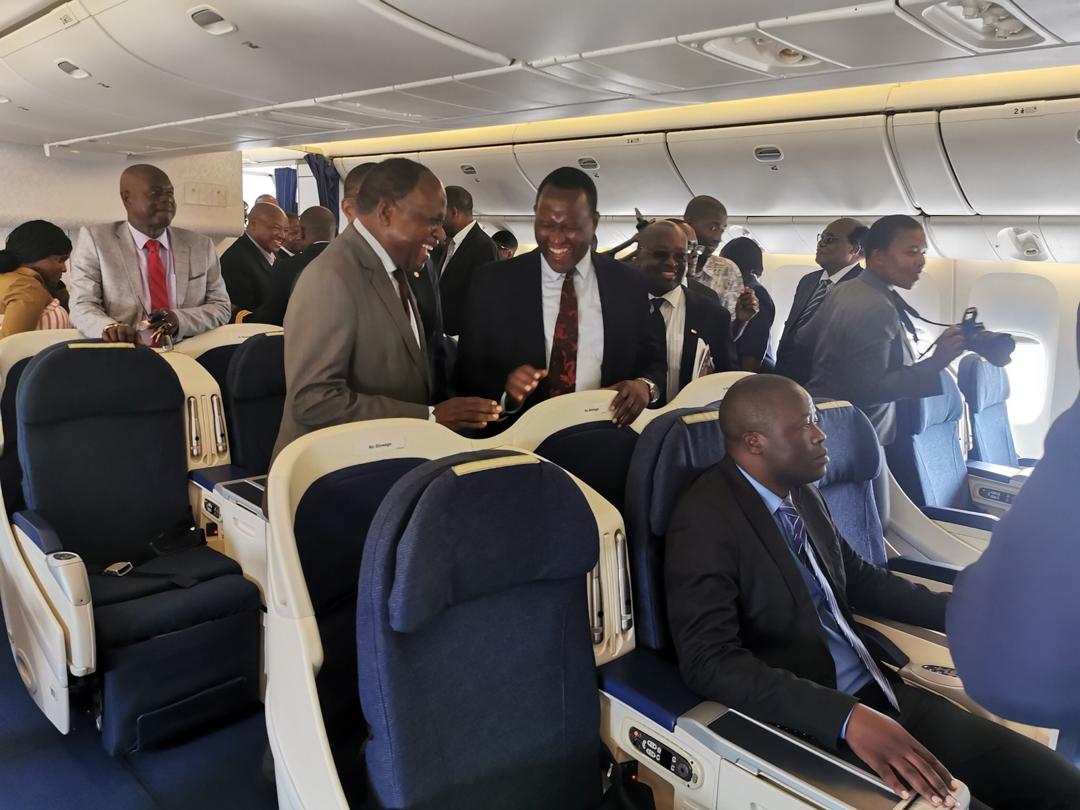 Resumption of international routes
The delivery of the new aircraft will now allow Air Zimbabwe to resume international routes such as the United Kingdom and China.
These routes were abandoned for about 10 years due to threats by creditors who wanted to ground the airlines' aircraft.
Vice President Constantino Chiwenga who was guest of honour at the welcoming ceremony said "The receipt of the aircraft is a clear testimony that we are taking concrete steps to capacitate our national airline so it plays its role in the economy."
He added: "I urge the Air Zimbabwe team to utilise this asset for the benefit of our economy at large."
Air Zimbabwe judicial manager Reggie Saruchera said the company will deploy aircraft in a strategic manner that facilitates growth.
He added that, "Successful turnaround is anchored on shared vision and collective effort from all stakeholders".
Citizens angry
But it seems not all citizens are happy with the latest move by the government.
The move has sparked outrage among some Zimbabweans who consider an aircraft of 15 years not value for money.
Majaira Jairosi wrote on twitter "Senior gov't officials, ministers and Acting President all at the airport to witness and celebrate the arrival of an 15 year old Boeing 777, which was no longer wanted by the Malaysian gov't.
Who in Zimbabwe did we offend to be subjected to such a primitive showcase."
Another also said, "15years old guys this is not progress but a death trap" Maxwell Kimu said, "15 year old….what the hell…".
Meanwhile some also believe it's a good move and the state deserves some commendation.
Despite all these sentiments, a second aircraft is expected to be delivered in two weeks times.
Source: Africafeeds.com